19" Ex-width Rack
| | |
| --- | --- |
| | |
Item No.:
19" Ex-width Rack
Product Name:
Cabinet Rack Series
● To manufacture must follow the ANSI/ EIARS-310-C,D,E,F criterions. UL & CE approved, and MIL-STD-167 test.
● Main Aluminum vertical rails were using the squeeze aluminum pillars; an arc type is its appearance; material :AL6063T5
● Flexible Aluminum vertical rails can set at the rack's front & back to meet the actual terminal wire' needs. And it at least should have 6 faces of grooves. User can see their actual situation to added the cable fixture.
● We have honeycomb or tempered glass door for you to choose. The same to the Front doors . And with the hidden lock or coded lock is optional and up to your actual need.
● 6-way Universal socket strips(1set) with switch, 50 Sets of Catch Nut and Panel Screw are the standard outfit, also you may added the earthling copper rails for your rack.
● Used the powder coating (it can against the rusty, oxidization, scrape hurts, lacquer peeling, strong acid and alkali' erosion) for all racks.
●If rack's width has to increase at 630 mm, the flexible aluminum vertical rails still maintains at 19 inches.
● Rack's side panel can be easy to assemble and disassemble from outside and without using any tools.
● 3 sets of UL & CE approved cooling fans as standard outfit. Fan's size is 120mm*25mm. Increasing the fans' quantity is optional
● Using the baying kits to make the steady for the rack and floor.
● Rack's appearance (front 7 gear doors, side panels )should be without any screws and nuts to affect its entirety looks.
● using the baying kits to make the steady for the rack and floor.
● Using Ground-Support Standoff to fix the Rack on the ground, or install the Lockable Wheels in order to move the Rack at random.
● The Removable Aluminum Vertical Rails can be adjusted its depth forward or backward. As regards Catch Nuts installed in the steel rails, it can be also adjusted its height upper or down according to the position of rack-mount chassis.
● Ex-width cabinet rack should added 2 vertical mounting angles and several leveling mounting angles to keep the equipment's nice looking.

Dimension: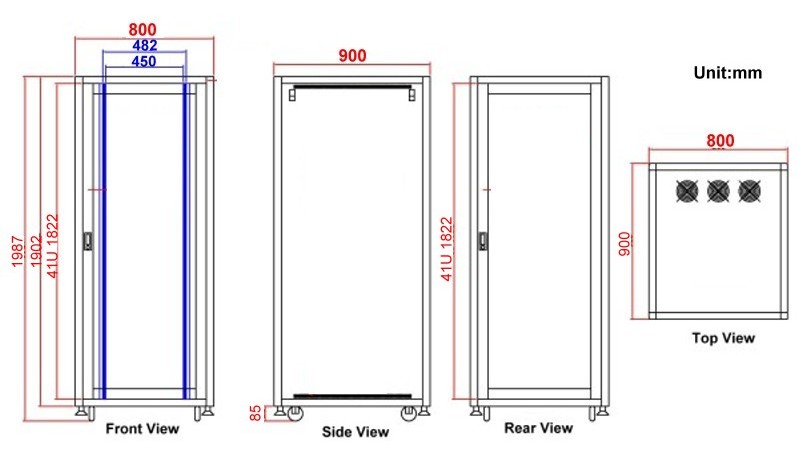 Standard Size
19" / 23" Server Rack Size ( W = 600 & 700 ) Unit=mm
Standard Size

H

0

H

1

D

0

D

1
| | | | | | |
| --- | --- | --- | --- | --- | --- |
| 15U | SJF-15-615 | 667 | 747 | 529 | 615 |
| 20U | SJF-20-615 | 889 | 969 | 529 | 615 |
| 25U | SJF-25-615 | 1111 | 1191 | 529 | 615 |
| 30U | SJF-30-615 | 1334 | 1414 | 529 | 615 |
| 35U | SJF-35-615 | 1556 | 1636 | 529 | 615 |
| 41U | SJF-41-615 | 1882 | 1902 | 529 | 615 |
| 15U | SJF-15-750 | 667 | 747 | 664 | 750 |
| 20U | SJF-20-750 | 889 | 969 | 664 | 750 |
| 25U | SJF-25-750 | 1111 | 1191 | 664 | 750 |
| 30U | SJF-30-750 | 1334 | 1414 | 664 | 750 |
| 35U | SJF-35-750 | 1556 | 1636 | 664 | 750 |
| 41U | SJF-41-750 | 1882 | 1902 | 664 | 750 |
| 15U | SJF-15-900 | 667 | 747 | 814 | 900 |
| 20U | SJF-20-900 | 889 | 969 | 814 | 900 |
| 25U | SJF-25-900 | 1111 | 1191 | 814 | 900 |
| 30U | SJF-30-900 | 1334 | 1414 | 814 | 900 |
| 35U | SJF-35-900 | 1556 | 1636 | 814 | 900 |
| 41U | SJF-41-900 | 1882 | 1902 | 814 | 900 |
| 42U | SJF-42-900 | 1867 | 1947 | 814 | 900 |
| 41U | JF-41-1100 | 1822 | 1902 | 914 | 1000 |
| 41U | JF-41-1100 | 1822 | 1902 | 1014 | 1100 |
| 42U | JF-42-1000 | 1867 | 1947 | 914 | 1000 |
| 42U | JF-42-1100 | 1867 | 1947 | 1014 | 1100 |
H1 W/O Caster High( 85mm) , 1U= 1.75 Inch= 44.45mm
Images: