19" Server Rack
| | |
| --- | --- |
| | |
Item No.:
19" Server Rack
Product Name:
Cabinet Rack Series
● To manufacture must follow the ANSI/ EIARS-310-C,D,E,F criterions. UL & CE approved, and MIL-STD-167 test.
● Main Aluminum vertical rails were using the squeeze aluminum pillars; an arc type is its appearance; material :AL6063T5
● Flexible Aluminum vertical rails can set at the rack's front & back to meet the actual terminal wire' needs. And it at least should have 3 faces of grooves. User can see their actual situation to added the cable fixture. Rack's external depth is 900mm, and it's internal depth must reach 750mm.
● We have honeycomb or tempered glass door for you to choose. The same to the Front doors . And with the hidden lock or coded lock is optional and up to your actual need.
● 6-way Universal socket strips(1set) with switch, 50 Sets of Catch Nut and Panel Screw are the standard outfit, also you may added the earthling copper rails for your rack.
● Flexible aluminum vertical rail's apertures must can install the M5 or M6 catch nuts, and aperture to aperture's distance must follow the EIA-Rs-310C' criterions (every aperture's size cannot smaller than 9.2mm*9.2mm). And the flexible aluminum vertical rail's thickness must higher than 2mm.
● The Removable Aluminum Vertical Rails can be adjusted its depthforward or backward.
● As regards Catch Nuts installed in the steel rails, it can be also adjusted its height upper or down according to the position of rack-mount chassis. 
● Used the powder coating (it can against the rusty, oxidization, scrape hurts, lacquer peeling, strong acid and alkali' erosion) for all racks.
● If rack's width has to increase at 630 mm, the flexible aluminum vertical rails still maintains at 19 inches.
● Rack's side panel can be easy to assemble and disassemble from outside and without using any tools.
● 2 sets of UL & CE approved cooling fans as standard outfit. Fan's size is 120mm*25mm. Increasing the fans' quantity is optional .
● Using the baying kits to make the steady for the rack and floor.
● Rack's appearance (front 7 gear doors, side panels )should be without any screws and nuts to affect its entirety looks.
● using the baying kits to make the steady for the rack and floor.
● Using Ground-Support Standoff to fix the Rack on the ground, or install the Lockable Wheels in order to move the Rack at random.
Dimension: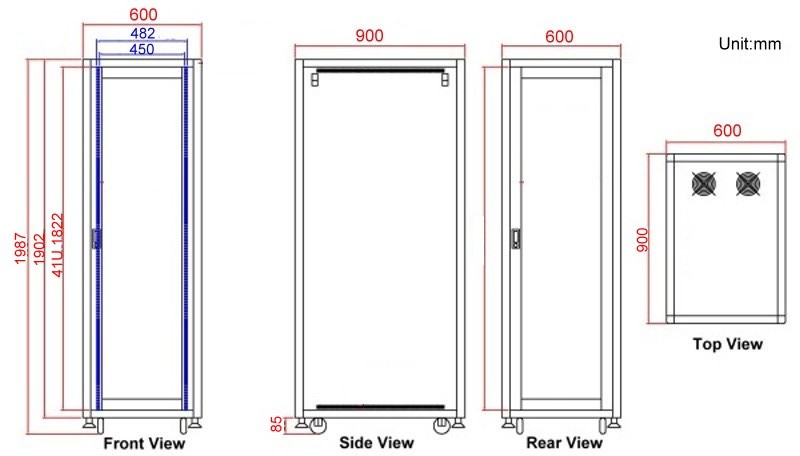 Standard Size
19" / 23" Server Rack Size ( W = 600 & 700 ) Unit=mm
Standard Size

H

0

H

1

D

0

D

1
| | | | | | |
| --- | --- | --- | --- | --- | --- |
| 15U | SJF-15-615 | 667 | 747 | 529 | 615 |
| 20U | SJF-20-615 | 889 | 969 | 529 | 615 |
| 25U | SJF-25-615 | 1111 | 1191 | 529 | 615 |
| 30U | SJF-30-615 | 1334 | 1414 | 529 | 615 |
| 35U | SJF-35-615 | 1556 | 1636 | 529 | 615 |
| 41U | SJF-41-615 | 1882 | 1902 | 529 | 615 |
| 15U | SJF-15-750 | 667 | 747 | 664 | 750 |
| 20U | SJF-20-750 | 889 | 969 | 664 | 750 |
| 25U | SJF-25-750 | 1111 | 1191 | 664 | 750 |
| 30U | SJF-30-750 | 1334 | 1414 | 664 | 750 |
| 35U | SJF-35-750 | 1556 | 1636 | 664 | 750 |
| 41U | SJF-41-750 | 1882 | 1902 | 664 | 750 |
| 15U | SJF-15-900 | 667 | 747 | 814 | 900 |
| 20U | SJF-20-900 | 889 | 969 | 814 | 900 |
| 25U | SJF-25-900 | 1111 | 1191 | 814 | 900 |
| 30U | SJF-30-900 | 1334 | 1414 | 814 | 900 |
| 35U | SJF-35-900 | 1556 | 1636 | 814 | 900 |
| 41U | SJF-41-900 | 1882 | 1902 | 814 | 900 |
| 42U | SJF-42-900 | 1867 | 1947 | 814 | 900 |
| 41U | JF-41-1100 | 1822 | 1902 | 914 | 1000 |
| 41U | JF-41-1100 | 1822 | 1902 | 1014 | 1100 |
| 42U | JF-42-1000 | 1867 | 1947 | 914 | 1000 |
| 42U | JF-42-1100 | 1867 | 1947 | 1014 | 1100 |
H1 W/O Caster High( 85mm) , 1U= 1.75 Inch= 44.45mm
Images: